Client: Centrick
Location: Fairbanks Court, London
Requirements: Balcony Decking Replacement
Scope of Works
Balguard were commissioned to replace the existing timber decking on the balconies of 54 apartments in a 13 storey residential block that no longer complied with building regulations. The timber balconies at this block of flats were condemned due to post Grenfell EWS1 regulations.
The images below show the poor condition of the timber balconies before work started.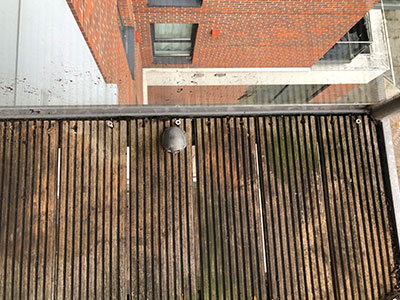 It was essential to replace all of the combustible timber decking and Balguard used Alideck Aluminium Decking for the project. All decking materials were fire-safety tested to EN 13823, EN 13501 and EN ISO 1716 which satisfy legal requirements for replacing timber decking.
The new aluminium decking system provided many benefits in addition to being fire rated, such as an anti-slip surface, high durability and attractive modern look.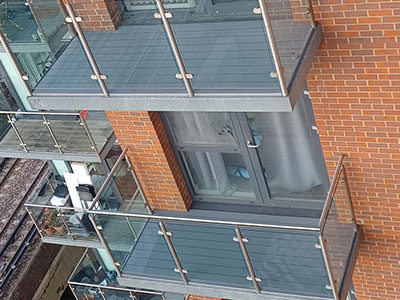 Access was provided via apartments and the installation team adhered to tightly defined appointment slots to minimise inconvenience to the residents. If you would like to find out more about our balcony decking please click to visit our Balcony Decking Replacement page.
Balguard were extremely careful when moving tools and materials so as not to damage common areas or apartments, and cleaned up meticulously. Residents were very pleased with the quality of their newly installed new aluminium decking system. Overall, as a leaseholders association, we were very happy with Balguard's performance in terms of responsiveness and time to mobilise, communication and coordination, and value for money, and would not hesitate to work with them again in the future.

Richard Spencer, Secretary of Fairbanks Court Leaseholders Association.